The Fluxion Radial Arc is a practical filtered cathodic-arc source.
A novel, compact and symmetrical filter geometry eliminates macroparticles without compromising the high deposition rate or simplicity of unfiltered arc. Permanent magnets (instead of coils) produce a strong, finely-tuned magnetic field for optimum ion throughput, arc stability, cathode usage, and rate distribution. The result is high quality, fully ionized, pure diamond and metal coatings deposition at high rates from a robust tool that is easy to use for industrial as well as scientific applications.
The Radial Arc is a simple replacement for a magnetron or conventional arc source.
Metal compound films like titanium-nitride (TiN) offer extremely high adhesion, density, hardness and optimal stoichiometry. Tetrahedral amorphous carbon (ta-C "diamond") deposited using the Radial Arc source are high sp3 and many times harder than sputtered films.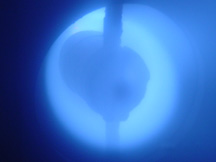 The Radial Arc source in operation: a Carbon Plasma
Fluxion offers a range of solutions for your diamond or metal film coating requirements. These include sources and complete systems incorporating Radial-Arc technology and in-house coating services. We specialize in challenging R&D applications.
Macroparticle Elimination without Compromising Performance
Pure Ion Deposition at High Rates from a Compact Source
Diamond-Like-Carbon Films Unmatchable by Other Processes
Advanced Ion PVD Process for Superior Metal and Diamond Films